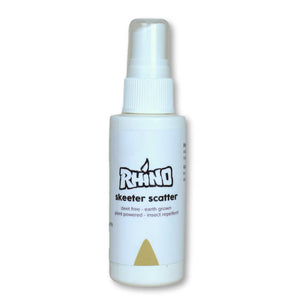 Rhino - Skeeter Scatter
1 oz Skeeter Scatter is plant powered, Deet free, bug repellent designed for outdoor enthusiast. Tested to be safe on gear, feel confident carrying this in a pack or pocket.
Great scent and non greasy or sticky. Works up to 6 hrs. Makes you smell nice.
Active Ingredients: Lemon Eucalyptus Oil (30%), Citronella Oil (5%)
Ingredients: Isopropyl Alcohol, Grape Seed Oil,, Lemon Grass Essential Oil, Cedar-wood Oil, Tea Tree Essential Oil, Black Pepper Essential Oil, Geranium Essential Oil, Pine Needle Essential Oil
MADE WITH OIL OF LEMON EUCALYPTUS: This DEET-free insect repellent provides you with protection during adventures in the backyard and on the go.
REPELS MOSQUITOES FOR UP TO 4 HOURS: This repellent keeps you and your family protected for hours, so the fun doesn't have to end.
REFRESHING SCENT: This DEET-free personal repellent leaves you with a cool, refreshing scent so you don't have to put up with the usual bug spray smell.
REPELS: Create a barrier against mosquitoes, including those that may transmit the Zika, West Nile, Dengue and Chikungunya viruses.
NOT GREASY OR STICKY: Formulated with oil of lemon eucalyptus to provide protection without leaving your skin feeling sticky or greasy.
SAFE FOR NYLON AND DYNEEMA: Metolius Climbing soaked nylon and dyneema slings in Skeeter Scatter for 1 week then tested them on their machine. Both materials exceeded the rated strength of 22 Kilo newtons . Breaking at 30kn and 28 kn respectively.
Directions: Spray on to skin or clothing. Effective up to 6 hrs.
Caution: Do not get in eyes or other sensitive areas. In case of product coming into contact with eyes flush with cool water. Do not ingest. In case of ingestion call poison control for instructions.