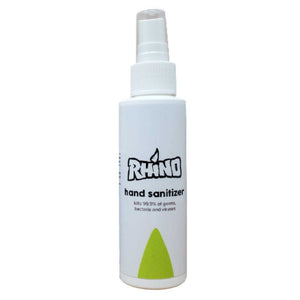 Rhino - Hand Sanitizer (1 oz)
The only hand sanitizer tested for climbing gear. Rhino Hand Sanitizer is proven to safe on nylon and dynema. Rest assured that if you spill some product onto your gear it is still safe to use.
Directions: Spray on, leave on. 50+ applications per ounce. Easier to use and more economical then Gel.
FDA and CDC guided formulary: Isopropyl Alcohol Concentration 75% - Proven shortest time on hands to be effective.
Formulated with Aloe Juice and Lemongrass this 75% Isopropyl Alcohol hand sanitizer can help reduce bacteria and viruses on skin. Effective and easy to use. Easy on the hands.
Ingredients: Isopropyl Alcohol, Aloe Vera Juice, Magnesium, Lemongrass Essential Oil
Due To Demand and Global Supply Bottles May Come With Flip Top Cap Or Spray Tops.